Drupal Commerce 2.0 released in time for DrupalCon Vienna
We released Drupal Commerce 2.0-beta1 at DrupalCon Dublin one year ago. Over the next 9 months we tagged 6 more beta releases comprising over 500 commits by 70 different contributors working for at least 10 different companies. Now, just in time for DrupalCon Vienna, we have tagged the full 2.0 release, celebrating the achievement with Drupal contributors around the world on September 20th and 21st.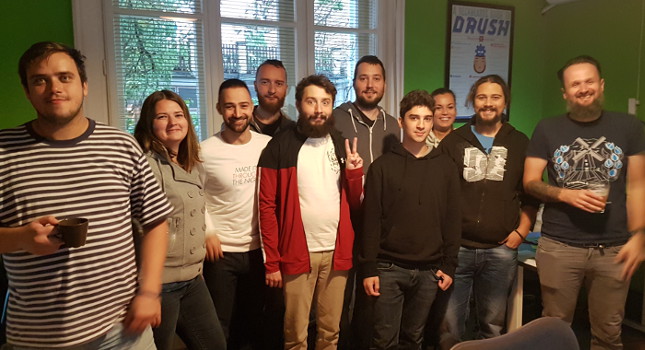 Celebrating Commerce 2.0 with Circle WF in Pancevo, Serbia.
Our release candidate phase was refreshingly uneventful (as you want it to be), giving us confidence to recommend developers begin using Drupal 8 and Commerce 2.x more broadly to develop their new eCommerce sites. Our team has contributed to a dozen projects directly, including architectural consulting and development. We also continue to see more case studies demonstrating how the new version is performing well at scale, making development teams more productive.
Additionally, not only has Commerce 2.x eliminated the need for half of the top 60 contributed modules in Commerce 1.x, many of the major contributed modules still required have seen their own releases or very active development to address important use cases. For example, we released a third beta of Commerce Shipping for Drupal 8 to support stores selling physical products with multiple shipments, flat rate, calculated rates and more. We continue to work on those feature modules ourselves (e.g. Commerce License / Recurring) and in partnership with other Drupal contributors (e.g. Commerce Stock) to make Commerce 2.x ready for more and more use cases.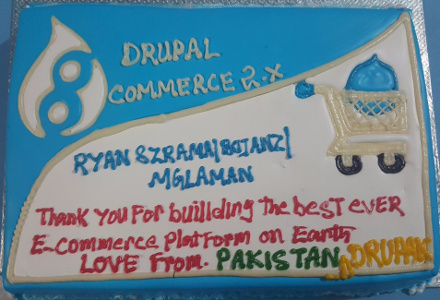 Drupal Commerce deserves cake! Thanks, Drupak.
We're believe in Dries Buytaert's vision for Drupal as empowering ambitious digital experiences. For us that means continuing to improve Drupal Commerce to better support any company aspiring to grow their online sales. While our work on the project will never be "done", at this milestone, we couldn't help but pause to celebrate with a bit of cake.
If you'd like to join us in celebrating this achievement, we're hosting a release party with our whole team and our friends from Commerce Guys by Actualys on Tuesday, September 26th, at DrupalCon Vienna a short walk away from the venue. We've timed it for dinner between the opening reception at the venue and the party later in the evening, with drinks and food on us until the tab dries up. Stop by our booth to get your ticket / directions, and come find the dozens of contributors here at DrupalCon to share your Drupal Commerce story with them in turn.